Content Management for Urbansider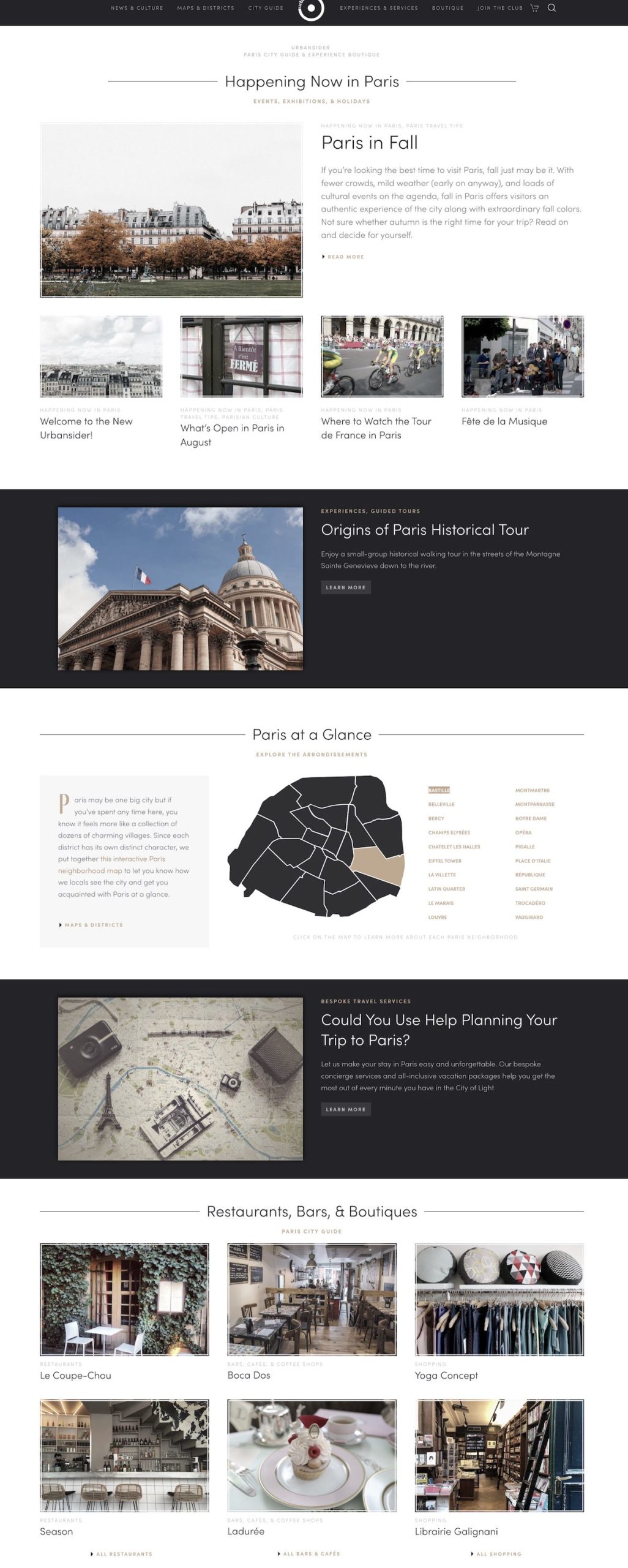 After first being invited to do a takeover on their Instagram account, I spoke with Urbansider's founder about their forthcoming Paris city guide website. It turned out they were in need of someone to write, edit, and manage all the content in English.
It was a natural fit! I've now been working with them for over three years masterminding their content on both social media and on Urbansider.com, which launched in January 2019.
My mission has evolved a lot since then, and now along with editing and writing articles about Parisian life and coordinating a team of freelance writers (and managing the content budget), I also worked on a complete redo of the website including an extensive SEO overhaul in collaboration with a local Paris SEO agency.
You can see all the articles and reviews I've written on my Urbansider author page.


Content Design and Management

Managing editor, coordinating freelance writers and other contributors

Development of Paris city guide chatbot Urbi, in collaboration with AI tech start-up Hopstay

SEO writing and editing – organic traffic +400% in 1 year

Over 300 reviews for Paris restaurants, bars, shopping, and sightseeing + nearly 150 blog articles in the Paris travel guide drawing an average of 15k+ users per month

Community management – grew Instagram account from 4,800 followers to 12,000+
"Alesa joined Urbansider at the very beginning of the project and immediately made her mark: a true talent for words and web writing, a thorough understanding of editorial issues, and a great rigor in her work. She now orchestrates all components of content mangement on the platform - writing and publishing of articles, coordinating the community of contributors, editorial planning - with a high level of professionalism. I am infinitely grateful to her for everything that she has brought to Urbansider."
– Guillaume Labendzki, fondateur Urbansider
"I am quite taken by the copy, thank you for the good work. It feels so great to be in good hands, to have someone get what's in your brain and put it in words beautifully; I am very grateful."
– Géraldine Zanaska, Founder Compass Music & Lighthouse
"We needed a brand new website to better promote our rock band. Alesa knew how to quickly optimize the presentation of our site by giving a professional look all while staying faithfaul to the identity of our project."
– (translated from French) Matt Brauns, lead singer of the band Seven Ages